From banishing writer's block to pitching story ideas, writing comes with its share of challenges. Luckily, there are a variety of resources for writers that make the challenge a little easier. We have the Come Write With Us course, and we recommend it for anyone who wants to learn the art and business of freelance writing. In addition to our own platform, we wanted to round up a few other useful tools and resources that can help you along the way. Here are some of our favorite resources for writers, organized by task.
Pitching publications
Many writers have no idea where to start when it comes to pitching publications their article ideas. If you need some guidance, try these pitching resources for writers.
WheretoPitch.com: (Free) Freelance writer Susan Shain built this website to help her fellow writers find publications to pitch. It's pretty great – you enter a topic or publication, and the site will populate a list of places that publish content on that topic or that are similar to that publication.
Mediabistro: ($14.99/month) Mediabistro has a handful of great free resources for writers, but their paid members get access to their "How to Pitch" section, which tells you exactly how – and whom – to pitch at various national magazines.
Study Hall: ($4/month) Study Hall is a members-only resource that allows users to join at different tiers of pricing, but we recommend the $4/month version. You get access to their Google forums, weekly digest, and their weekly job postings, which include calls for freelance pitches.
Writing a book
So you've always wanted to be an author, but the whole idea of publishing a book seems unreasonably daunting. These book publishing resources for writers make the process a little less intimidating.
New York Book Editors Beginner's Guide to Self-Publishing: (Free) When you publish a book traditionally, you will typically write a book proposal, then find an agent who will pitch your proposal to publishers until you get a book deal. More authors are opting to self-publish, though, and this free guide can help you get started.
Literary Marketplace: (Free) If you're looking to publish a book traditionally (meaning, you don't want to self-publish), the Literary Marketplace is a solid place to start your search for a literary agent or publisher.
Jane Friedman: (Free) At her website, former Writer's Digest publisher Jane Friedman shares all the tools and tricks of the publishing world, from finding a literary agent to writing query letters for book proposals.
Writer's Digest online (Free) Speaking of Writer's Digest, the online version of the magazine is free and remains one of the best resources for writers. They share a great deal of information on book publishing via their blog, but the site also offers writing competitions, online forums, and writing prompts.
Poets & Writers online: (Free) Another well-established resource for writers, the online version of Poets & Writers magazine includes tips and advice for creative writers. Their topics go beyond book publishing, but there's plenty of advice on that, too.
Grammar, style, and organization
If you need help with some of the more technical aspects of writing, there are a number of tools and resources that can help you improve your grammar, find your voice, and develop your style. Here are some of our favorites.
Look Better in Writing podcast: (Free) Author Nailah Harvey uses her experience as a writer and teacher to help other writers with their grammar skills. Harvey breaks down the rules of the English language in a really fun and approachable way. She has a book, podcast, and a Facebook group.
Grammar Girl: (Free) Even if you're not a grammar nerd, we think you'll enjoy Mignon Fogarty's platform, which has now grown into much more than a blog about grammar. But Fogarty's podcast, Grammar Girl: Quick and Dirty Tips for Better Writing will certainly help level up your writing.
Hemingway: (Free) A truly amazing free app that analyzes your writing and tells you how to improve. You simply copy and paste your article, blog post, essay – anything with words – into the tool, and it will point out passive voice, overly complex sentences, and filler words.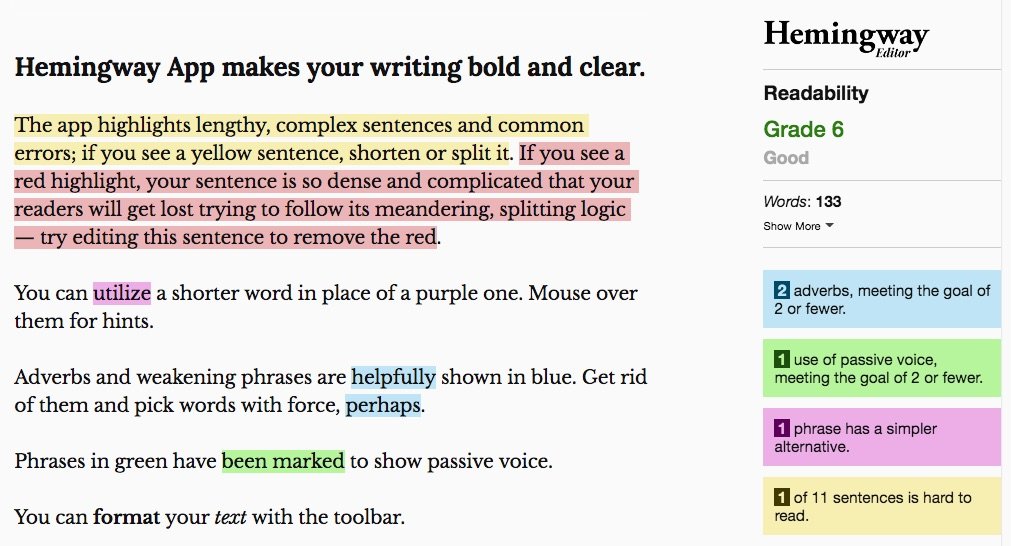 Dreyer's English (Price varies): The Utterly Correct Guide to Clarity and Style, this is a useful and approachable grammar guide for writers of all levels.
Grammarly: (Free) This browser extension is like spellcheck for your grammar skills. You can use it with Gmail, Google Docs, Twitter – pretty much any app you regularly use for writing. Grammarly will pop up and warn you about spelling and grammar errors as well as potential issues with style.
Writefull: (Free) This app will analyze your writing and give you feedback by checking it "against databases of correct language," like books and scholarly articles. It's a great tool if you're not 100% sure how a phrase is used or want to see how it's used in context.
Scrivener: ($49) There's a reason this app is a favorite among writers, authors, and screenwriters. It comes with a slew of features to make your job easier. For instance, you can view your sections and plot points on their Corkboard, which is like using digital notecards to organize your story.
Writing inspiration & support
All Come Write With Us members get access to our Facebook group, where you can ask questions and get feedback on your writing – we even post writing jobs in the group. For writers, having a community is crucial, which is why we built this platform. But here are some other writers groups and workshops you might enjoy:
NaNoWriMo: (Free) National Novel Writing Month! Each November, hundreds of thousands of writers participate in this free writing challenge, which helps you write 50,000 words in a month.
Bird by Bird: (Price varies) Perhaps our favorite book on writing, author Anne Lamott offers a great mix of practical advice and inspiration.
The Artist's Way: (Price varies) Julia Cameron helps readers rediscover and unleash their creativity. We recommend this book often in the Facebook group!
Reddit Writing Prompts: (Free) This is an entire community dedicated to writing prompts, and the ideas are pretty creative. One of our favorites:

"You're almost completely immortal- only one thing can kill you. You don't know what that one thing is, though, and you're getting increasingly paranoid as the years go on."
Longform Podcast: (Free) On this podcast, famous writers and authors share their experiences with all things writing, from finding work to writing the perfect lede to publishing books.
Finding work & setting rates
Our guide to setting freelance writing rates: (Free) We offer formulas and calculations you can use to figure out your rates as a freelancer.
Twitter: (Free) We've said it before, but Twitter is a great place to search for editors, publications, and businesses that are actively hiring writers or looking for freelance pitches. You can use the search function to see who's hiring, but there are accounts that will post freelance jobs, too:
Who Pays Writers: (Free) This site is like Glassdoor for publications. Writers share how much a magazine, newspaper, or digital outlet has paid them in the past. They also share how long it took to get paid and how easy the process was.
ProBlogger​: (Free) The ProBlogger job board lists freelance writing and blogging jobs, most of which are freelance.
FreelanceWritingGigs.com​: (Free) This blog lists new freelance writing jobs daily. You'll find decent options, trending more towards remote work and blogging.
Mediabistro​: (Free) The free version of this journalism-focused site offers job listings at companies like NBC, Vogue, or Rolling Stone Magazine. There are also remote, freelance opportunities available.
These are a few of our favorite resources for writers, but there are so many great tools out there – what are your favorites?